St. Elizabeth Healthcare operates five facilities throughout Northern Kentucky, including St. Elizabeth Healthcare Edgewood, a state-of-the-art general medical and surgical facility.
As a healthcare facility serving the larger Cincinnati metro area, there is a constant flow of patients, visitors, and medical personnel through their halls. Unfortunately, the hot water was not flowing quite so quickly. For years the hospital had dealt with an unreliable and unbalanced hot water supply. The domestic hot water system's (DHWS) return runs were operating inefficiently, leaving some of the hospital wings completely without hot water at times.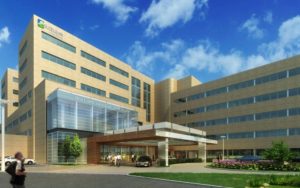 To address this problem, MarkCo Plumbing installed around 90 CircuitSolver® balancing valves in their DHWS. The CircuitSolvers® were installed at the end of each hot water branch in the system, replacing the manual balancing valves. These self-actuating, thermostatic recirculation valves automatically and continuously adjusted the flow to maintain the specified temperature at the end of each domestic hot water supply line. No manual balancing was required.
After the successful CircuitSolver® installation, St. Elizabeth Healthcare Edgewood now has access to an on demand hot water supply in all wings, on every floor, at every fixture. CircuitSolver® was able to balance the system when engineers could not.
Where manual balancing fails, CircuitSolver® delivers.
About CircuitSolver®:
The CircuitSolver® is a thermostatic, self-actuating balancing valve that continuously and automatically adjusts the flow through each branch of a domestic hot water recirculation system to maintain the specified temperature at the end of each branch, regardless of fluctuations in hot water demand. It is a direct replacement for manual balancing valves and eliminates balancing labor and callbacks.