CircuitSolver (CS)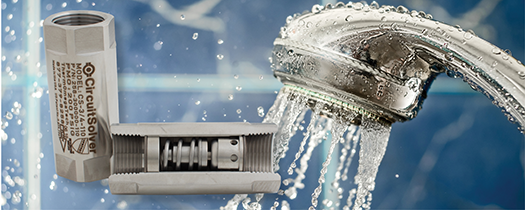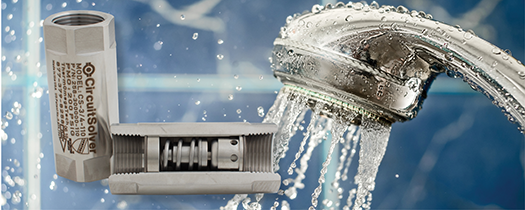 Traditional domestic hot water recirculation system balancing is time-intensive, laborious, and expensive. For decades, balancing has been the combined effort of several contractors spending a lot of time manually balancing and rebalancing the Domestic Hot Water System (DHWS) to achieve the required flow needed to obtain the same temperature in each branch.
While manual balancing methods are good in theory, they flounder in practice resulting in hefty labor costs and frequent callbacks due to a manual balancing valve's inability to react to dynamic changes in the system.
To conquer the challenges inherent to conventional manual balancing methods, ThermOmegaTech® invented the CircuitSolver®, the market's first thermostatic balancing valve for a Domestic Hot Water System (DHWS).
How It Works:
Installed at the end of each branch before the return, the CircuitSolver® uses our unique Thermoloid® wax thermal actuator to modulate the valve open and closed in response to temperature variations to maintain a specified temperature at the end of each branch. During the initial start-up of a Domestic Hot Water System (DHWS), the valve is wide open and will begin to close once the system temperature requirements are met.
Once the system is balanced, the valve will remain in its closed* position to keep hot water in the line and only modulate open to establish flow when the water temperature drops below its set-point. Once the temperature rises back up to the valve's set-point again, the CircuitSolver® automatically modulates back towards its closed* position.
This automatic response to temperature allows the balancing valve to dynamically adjust to the varied usage rates in a DHWS throughout the day. No manual balancing is required, simply install the valves and watch them work!
*Note: The valve will never fully close, always allowing a small bypass of flow to the return to avoid dead-heading the recirculation pump. The limited flow to your return line will reduce system wear, electricity, and water usage and improve overall system operation.
Valve Components:
The CircuitSolver® thermostatic balancing valve is comprised of 100% high-quality stainless steel components – a valve body, valve plug, spring, carrier, and thermal actuator.
| | | |
| --- | --- | --- |
| ITEM | DESCRIPTION | MATERIAL |
| 1 | Valve Body | 303 stainless steel |
| 2 | Valve Plug | 303 stainless steel |
| 3 | Spring | 302 stainless steel |
| 4 | Carrier | 303 stainless steel |
| 5 | Thermal Actuator | 303 stainless steel |
Typical Applications:
CircuitSolver® can be used in any building with a domestic hot water recirculation system to maintain a thermally balanced system and have hot water readily available at each fixture. Used in commercial buildings of all sizes and Domestic Hot Water Systems (DHWS) with varying complexity, CircuitSolver® installations often include hospitals, schools, hotels, high-rise buildings, and multi-family apartment buildings.
To see CircuitSolver® installations in your area, visit our installations page.
CircuitSolver® thermostatic balancing valves can also balance the return flow between the master mixing valve and the water heater. To learn more about this application, go to the Balancing a DHWS Return with CircuitSolver page.
Benefits:
All Stainless Steel – Corrosion Resistant Construction
High thrust actuator keeps orifice free of debris
Never fully closes, some water always passing through
Long service life and 3-year warranty
Reduces installation and maintenance costs
Promotes effective water conservation
Certifications:
Fully compliant with Section 1417(d) of SDWA, the Safe Drinking Water Act
Supports efforts toward LEED Certification
Complies with the Buy American Act
Specifications:
Sizes: 1/2", 3/4″, 1", 1 ¼", 1 ½", & 2"
Fixed Temperatures: 100°F (37.7°C), 105°F (40.5°C), 110°F (43.3°C), 115°F (46.1°C), 120°F (48.8°C), 125°F (51.6°C), 130°F (54.4°C), 135°F (57.2°C), 140°F (60.0°C)
Max working Pressure: 200 PSIG/14 BAR
Max Working Temperature: 250°F/121°C
With CircuitSolver®, we have started up systems in the afternoon to come in the next morning to find hot water perfectly balanced throughout all risers and zones. We make sure to get the check valves included, so there is never an issue with direction of flow. We are also getting the complete setups with isolation valves to take any extra steps of fabrication out of the picture.