CircuitSolver® Thermostatic Balancing Valves
A Temperature Solution to a Temperature Problem
CircuitSolver® is a brand of ThermOmegaTech®, a leader in designing and manufacturing self-actuating thermostatic temperature control technology. Over the last 40 years, we have successfully implemented our thermal actuator technology to precisely monitor and control fluid based on temperature in dozens of applications. In 2012, we expanded into the plumbing industry with CircuitSolver® thermostatic balancing valves for domestic hot water recirculation.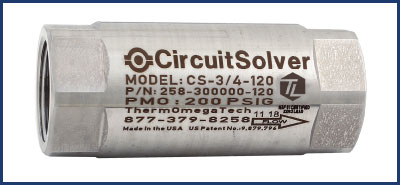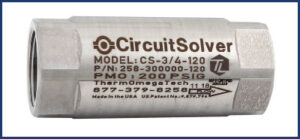 ThermOmegaTech® is excited to celebrate over ten years of active use in the plumbing and construction industry and looking forward to what will come in the next decade!
Featuring CircuitSolver® principals, representatives, a plumbing contractor, and a design engineer, this new video speaks to the effect CircuitSolver® thermostatic balancing valves have had on the industry by making manual balancing a thing of the past.
Changing the Plumbing Game
CircuitSolver® thermostatic valves' precision and accuracy eliminate the struggles of balancing and rebalancing. For years, contractors and engineers have witnessed the ease of using CircuitSolver® in their projects, and they share their experiences in this exciting new CircuitSolver® video!
"Someone had recommended us [for a job], and I said this is the perfect job for CircuitSolver®," said Ron Miller, President/ Master of Adelphia Plumbing in Pennsylvania. "We removed the old standard balancing valves and installed CircuitSolver® valves for half the price of the other job. The system worked perfectly after that."
"We use CircuitSolver® in all of our projects that require recirculating hot water…it is a much more energy efficient way to design a hot water recirculation system," states Jim Tyler at EAPC Architects Engineers.
Watch the video HERE!
All CircuitSolver® thermostatic valves are designed and assembled at our manufacturing facility in Warminster, PA, and comply with the "Buy American Act."
CircuitSolver® revolutionized the commercial plumbing industry by automatically balancing domestic hot water systems, eliminating the need for costly and time-intensive manual balancing.
Contact us for more information here.