CircuitSolver Sanitary Flush (CSUSF)
The CircuitSolver® Sanitary Flush (CSUSF) is a self-actuating thermostatic balancing valve that combines automatic balancing and high-temperature flush capabilities utilized for thermal bacteria disinfection in domestic hot water systems (DHWS).
Factory set to your specified temperature requirements, the CSUSF is the ideal balancing solution for dynamic systems employing thermal disinfection to protect against Legionella growth.
How It Works:
The CircuitSolver® line of thermostatic balancing valves automatically and continuously adjust flow through a domestic hot water recirculation system to maintain the specified temperature at the end of the branch/riser and ensure instant hot water at each fixture.
The CSUSF thermal balancing valve uses two thermal actuators to control the flow of water through a branch/riser. The first balances the system for everyday hot water use. When the water temperature in the branch reaches the set-point of the low-temperature actuator, the valve modulates to its closed* position to keep the hot water at the fixtures. This forces the additional water onto the other branches maintaining a constantly balanced system.
*Note: The valve will never fully close, always allowing a small bypass of flow to the return to avoid dead-heading the recirculation pump.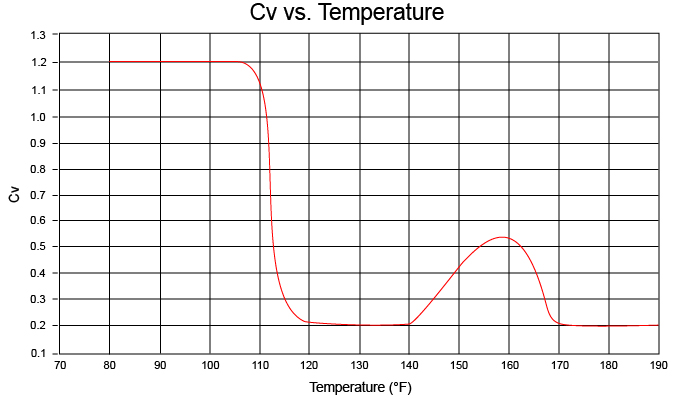 During the thermal disinfection process, the low-temperature actuator will begin to reopen, allowing the high-temperature water to flow through the branch again. When the water temperature reaches the set-point of the second high-temperature actuator, the CircuitSolver® will modulate to its "closed" position again to keep the high-temperature water at the fixtures for disinfection.
The CircuitSolver® Sanitary Flush valve is tamper-proof and operates at the ideal line temperature for standard balancing while also allowing higher temperatures during disinfection processes. It is the ideal solution for a maintenance-free high-temperature flush.
Valve Components:
The CSUSF valve is comprised of 100% stainless-steel components, a high-quality O-ring, and an optional check valve.

| | | |
| --- | --- | --- |
| ITEM | DESCRIPTION | MATERIAL |
| 1 | Valve Body w/ Union Threads | 303 SS |
| 2 | Insert – CircuitSolver | 303 SS |
| 3 | Spring | 302 SS |
| 4 | Plug | 303 SS |
| 5 | Thermal Actuator | 303 SS |
| 6 | Carrier | 303 SS |
| 7 | Union Nut | 303 SS |
| 8 | O-Ring | Buna-N |
| 9 | Check Valve (Optional) | Glass Filled Noryl |
| 10 | Insert – Female Threaded | 303 SS |
Typical Applications:
The CircuitSolver Sanitary Flush valve can be used in any building with a domestic hot water recirculation system to keep each fixture supplied with hot water while also allowing high-temperature flushing procedures to protect against Legionella bacteria growth. Used in commercial buildings of all sizes and in DHWS' with varying complexity, installations often include hospitals, schools, hotels, high-rise buildings, and multi-family apartment buildings.
To see CircuitSolver® installations in your area, visit our installations page.
CircuitSolver® thermostatic balancing valves can also be used to balance the return flow between the master mixing valve and water heater. To learn more about this application go to the Balancing a DHWS Return with CircuitSolver page.
Benefits:
Automatically and continuously adjusts to balance domestic hot water systems
Eliminates balancing labor and callbacks
Direct replacement for manual balancing valves
Reliable, long-lasting thermal actuators
Allows for thermal disinfection flushing of the DHWS to protect against Legionella growth
Long service life and 3-year warranty
Certifications:
Fully compliant with Section 1417(d) of SDWA, the Safe Drinking Water Act
Supports efforts toward LEED Certification
Complies with the Buy American Act
Specifications:
Sizes: 1/2", 3/4″ & 1"
Fixed Temperatures: 100°F (37.7°C), 105°F (40.5°C), 110°F (43.3°C), 115°F (46.1°C), 120°F (48.8°C), 125°F (51.6°C), 130°F (54.4°C), 135°F (57.2°C), 140°F (60.0°C)
Max working Pressure: 200 PSIG/14 BAR
Max Working Temperature: 250°F/121°C
What an awesome little device these guys make. It's a no-brainer.