Warminster, PA – ThermOmegaTech: CircuitSolver, a ThermOmegaTech brand, announced its CircuitSolver Cold Water Balancing Valve (CSU-CW) this month, and will be displaying the valve with a live demo at the AHR tradeshow in Las Vegas from January 31st to February 2nd. The CSU-CW is a dynamic valve designed to automatically balance cold water recirculation systems utilizing the same reliable and precise thermal actuator technology as the original CircuitSolver for balancing recirculating hot water systems.
This unique valve will effectively mitigate the risk of Legionella bacteria growth in a domestic cold-water system (DCWS) by continuously monitoring water temperatures and modulating flow to maintain a set temperature at the end of each branch or riser. This automatic response to water temperature balances the cold water throughout the system, reduces stagnation, and ensures "residual chlorine" is distributed throughout the system.
"Every day, the topic of Legionella mitigation is becoming more frequently discussed within the plumbing industry." Tom Ruggierio, National Business Development Manager at ThermOmegaTech, says. "For domestic water systems, most of the focus has been on the hot water portion. However, over the past few years, the Veterans Health Administration (VHA) has taken a more proactive approach in addressing Legionella mitigation in domestic cold-water systems."
To achieve stability, ThermOmegaTech's engineers have worked diligently to develop a dynamic design that continuously addresses the ever-changing conditions often associated with cold water systems, including changes in building occupancy, building expansion, reduction in utilization, and other variables that may disrupt the balance of a system.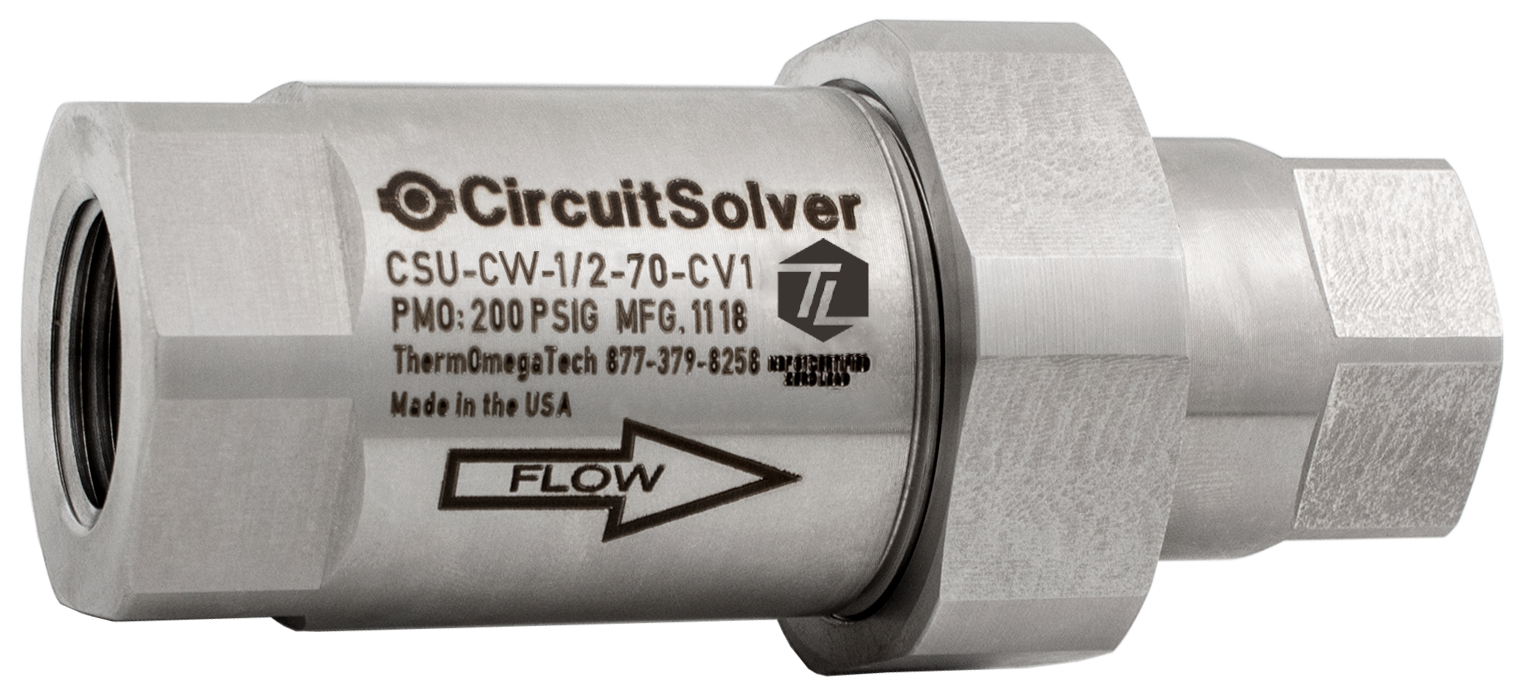 The Covid-19 pandemic has impacted the plumbing industry in many ways and domestic cold-water systems have been a weak point in many buildings. "Reopening buildings found that their unbalanced cold-water systems had sat stagnant and warmed, leading to dangerous Legionella bacteria growth," Ruggierio comments. "The CircuitSolver Cold Water valve automatically balances the DCWS and mitigates Legionella risk".
About ThermOmegaTech®:
For over 35 years, ThermOmegaTech® has been a leader in the design and manufacture of self-actuated thermostatic technology. Founded in 1983, ThermOmegaTech® is a privately held company with 40,000 square feet of manufacturing and office facility located near Philadelphia, Pennsylvania. The company provides innovative solutions for a wide range of applications including freeze & scald protection, mixing & diverting, steam traps, thermal bypass, tepid water delivery, washdown, balancing, drain tempering, and many other applications where temperature control is critical. Key industries it serves include railroad, commercial plumbing, aerospace & defense and industrial.
ThermOmegaTech® specializes in manufacturing prototype/small volume and highly engineered custom products utilizing phase-change thermostatic actuator technology to satisfy individual project needs. For maximum efficiency and effective communication, ThermOmegaTech®'s R&D, manufacturing, assembly, testing, inspection, sales, and customer service departments are all located in one facility. Their QMS is certified to AS9100D standards demonstrating the focus on quality its products are distributed and used worldwide.
Find more information here.