Drain Tempering Valve (DTV)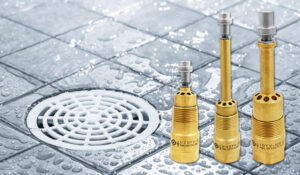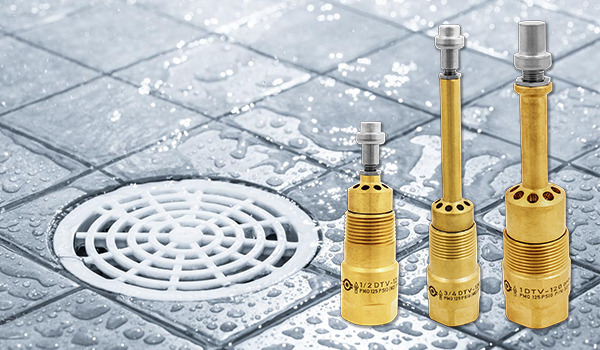 Drain water from commercial equipment exceeding 140°F can be costly – leading to failed inspections, fines, business interruptions, or injury and damage to personnel and equipment.
ThermOmegaTech's® Drain Tempering Valve (DTV) tempers excessively hot drain water to comply with international plumbing code temperature regulations. Thermostatic and completely self-operating, the DTV is plug-and-play, giving you one less thing to worry about.
How It Works:
The DTV tempering valve is installed into the drain line such that the hot effluent passes over the thermal actuator of the DTV which controls the cold water inlet port. If the hot effluent is above the specified set-point of the valve, the DTV opens to allow injection of cold water. As the hot effluent cools, the DTV automatically modulates to reduce the cold-water inlet flow. At 10°F below the full open temperature, the cold-water inlet is fully closed to conserve water.
Since the DTV is open only when the effluent exceeds the specified set-point temperature, it conserves water by automatically turning off cold water when not needed. Available in ½", ¾", and 1" sizes in brass or stainless steel, the DTV provides a convenient, economical, and easy to use method of tempering hot effluent flows.
To help you choose the right size valve for your application you will need to calculate the flow rate. Check out the DTV FLOW CALCULATOR for assistance.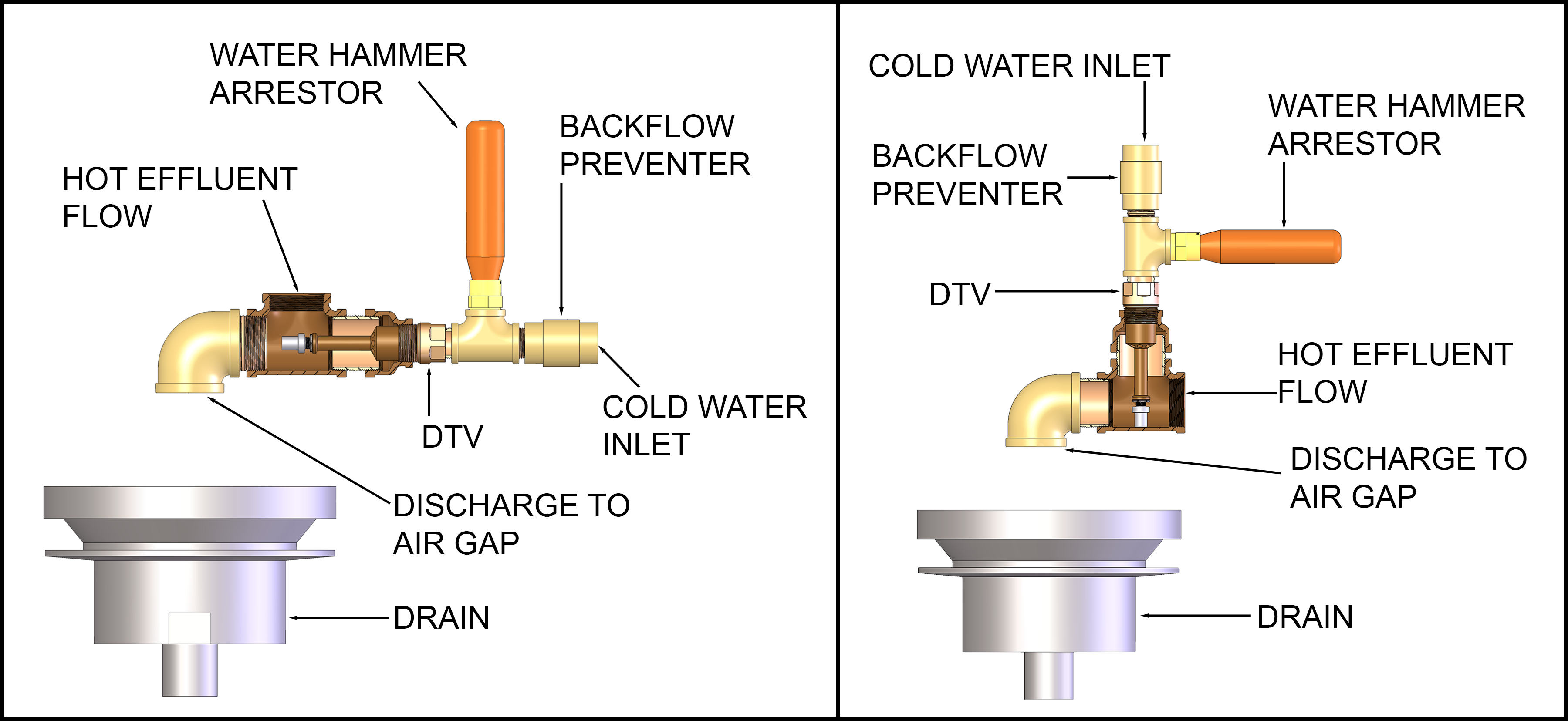 Valve Components: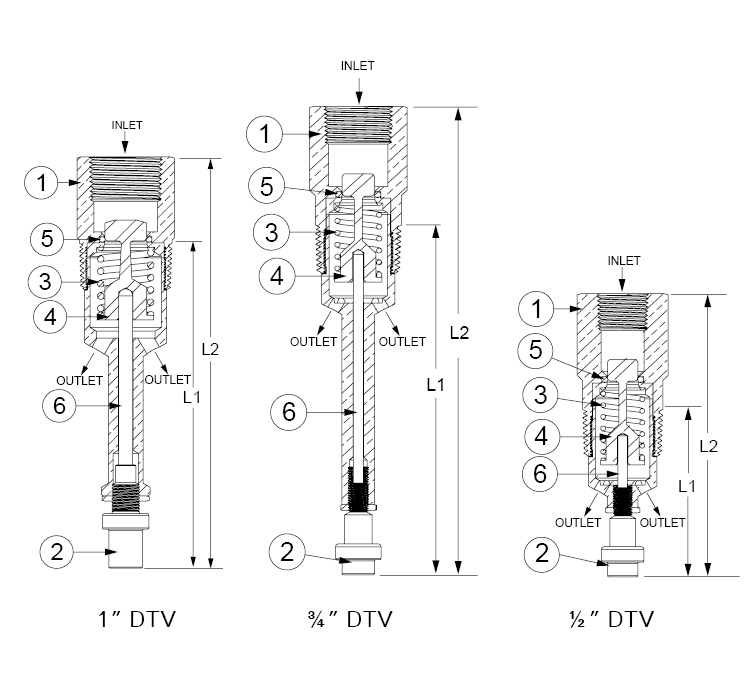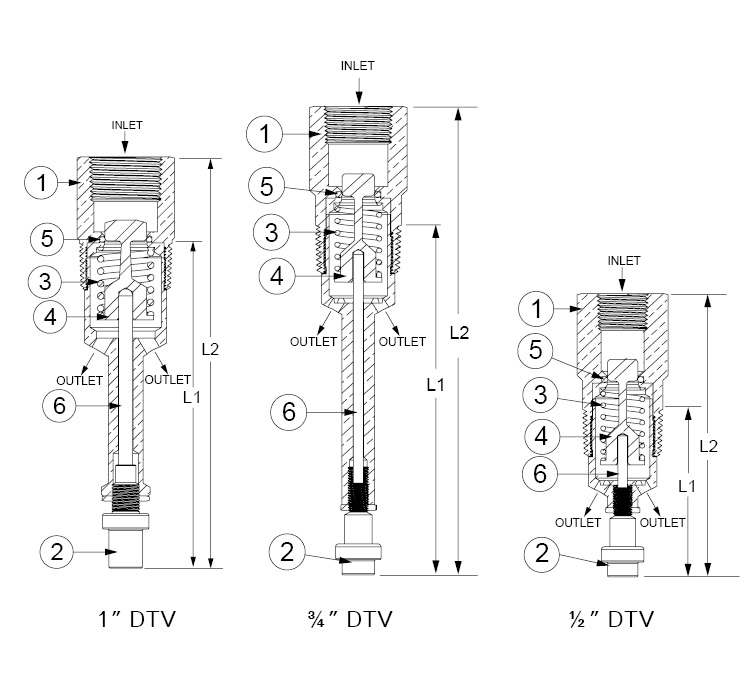 | | | |
| --- | --- | --- |
| ITEM | DESCRIPTION | MATERIAL |
| 1 | Valve Body | Brass or 300 stainless steel |
| 2 | Thermal Actuator | 303 stainless steel |
| 3 | Operating Spring | 303 stainless steel |
| 4 | Ram-Type Plug | 303 stainless steel |
| 5 | Seat Seal | PTFE |
| 6 | Piston | 300 stainless steel |
Typical Applications:
The DTV is used in applications where a high-temperature discharge flow from commercial equipment must be tempered with cold water before entering a public drain or sewer system. Applications include humidifier discharge to sewer or drain, commercial dishwashers or ware washers, boiler blowdown drain lines, and autoclave discharge.
Benefits:
Compliant with drain temperature limitations of plumbing codes
Prevents damage to PVC piping due to over-temperature conditions
Completely mechanical, self-operating drain tempering
Minimizes water waste
Easy to install
Adaptable to almost any drain size
Features:
Sizes include 1/2″, 3/4″, & 1″
Available in stainless steel or brass
Rugged, clog resistant valve design
Install using standard pipe fittings and tools
Operates in any orientation
Modulates to conserve cooling water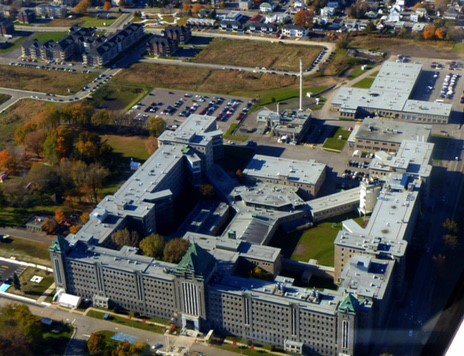 By eliminating the conventional method of using fixed flow balancing valves and installing CircuitSolver®s instead we were able to resolve our lack of hot water in some sectors of the hospital issue instantly.