Washdown Stations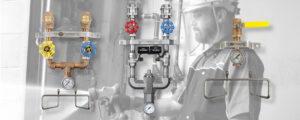 Cleaning food processing machinery, chemical tanks, and equipment is not always easy. Using old pressure-balancing technology that relies on multiple moving parts, conventional industrial hose stations are prone to premature failure due to mineral deposits and scaling. The regular maintenance of these units, necessary to keep them running safely, is very time-consuming and costly.
ThermOmegaTech®'s innovative washdown solutions include various high-temperature sanitation and maintenance equipment necessary for industrial facilities to ensure the quality of food and consumable products made available to the public adhere to FDA sanitation requirements. This includes steam and water washdown stations, hot water mixing stations, washdown guns, washdown hoses, and ensuring organization and security of equipment – washdown enclosures.
Typical Applications:
Washdown stations ensure cleanliness in food processing, dairy, breweries, wineries, chemical, petrochemical, pharmaceutical, and other industrial facilities where a high temperature wash down is required.
Washdown Station Options:
ThermOmegaTech® offers three different stations to satisfy almost any facility's sanitary washdown needs as well as compatibility with their existing steam and/or water supplies.
Check out our Washdown Brochure for a complete view of our Washdown product offerings.
STVM® Steam & Water Washdown Station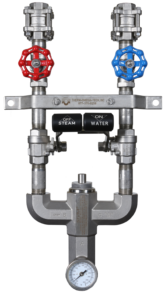 The STVM® Washdown Station provides an effective high-temperature wash in an easy-to-maintain package. Utilizing our patented Silent Venturi Mixing Valve (STVM®) technology, this washdown station mixes steam and water to produce a high-powered wash at a user-defined temperature. The mixing valve is self-scouring to prevent mineral buildup in tight spaces, decreasing maintenance frequency. The station is in-line serviceable to reduce additional time spent on regular maintenance. The user simply switches out the STVM® cartridge with a replacement, and the unit is back up and running in minutes.
Safety is our priority, which is why every STVM® Washdown Station has two built-in safety features – interlocking ball valves to prevent steam-only operation and an automatic shut-off when output is 15°F over the unit's temperature set-point (either 150°F or 185°F) or when cold water flow is interrupted.
To learn more about the STVM Washdown Station, click here.
HCX Washdown Station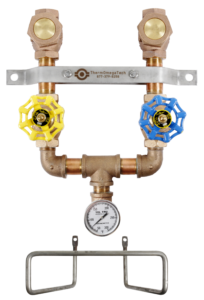 The HCX Washdown Station is an ideal solution for facilities without an available steam supply. This unit utilizes individual globe valves to mix hot and cold water to a user-defined temperature, clearly displayed on the integrated temperature gauge.
The unit is offered with our unique SmartFlow feature to prevent accidental scalding. This over-temperature safety valve automatically stops flow should the unit's output exceed the factory set-point.
To learn more about the HCX Washdown Station, click here.
HCS Washdown Station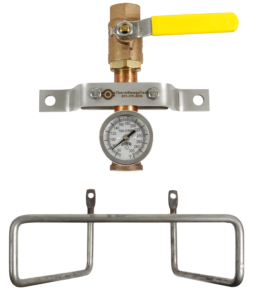 The HCS Washdown Station simplifies washdown applications even further, providing a high-powered single stream of either cold water or pre-heated hot water at the turn of a ball valve. The unit employs an integrated temperature gauge to confirm output temperature.
To learn more about the HCS Washdown Station, click here.
Resources:
Optional Accessories:
Washdown Gun
SS Washdown Gun
Washdown Station Enclosure
Black Washdown Hose (Steam)
White Creamery Washdown Hose (Steam)
Hot Water Washdown Hose Assembly
STVM® Cartridge Assembly
For more information on our accessories or to discuss the differences in our washdown systems and determine which is right for your facility, please get in touch with our plumbing product experts.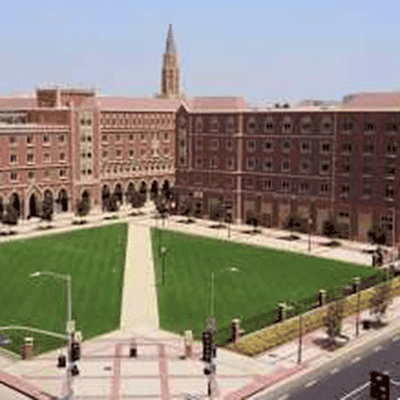 CircuitSolver® makes balancing the system so easy. We don't have to manually set each line or make any adjustments. We have had absolutely no balancing issues since we started up the system.